Maintenance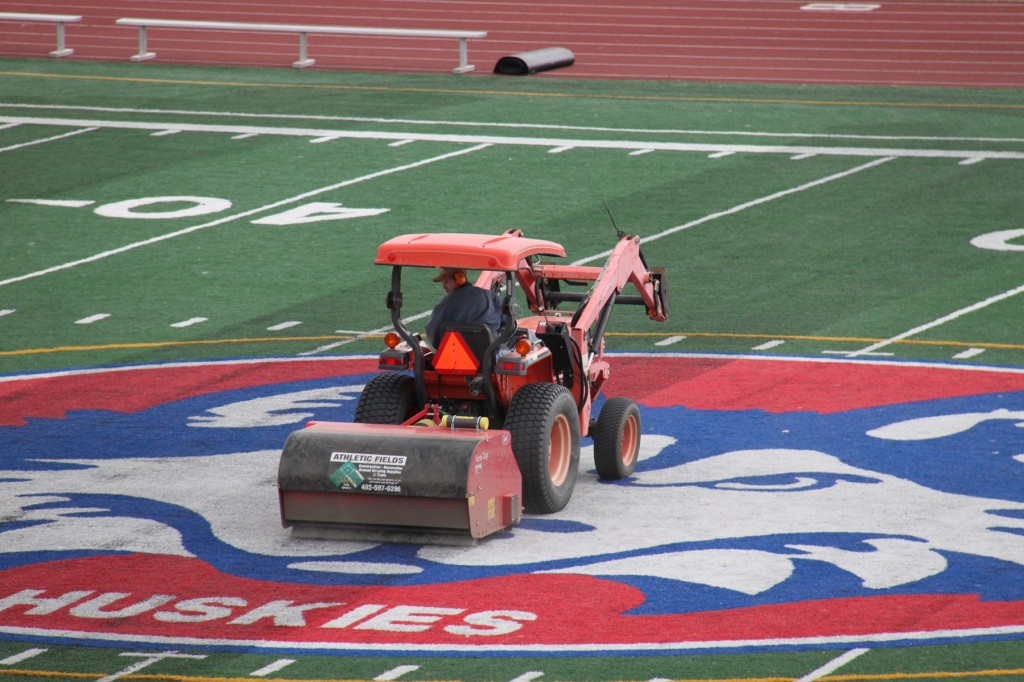 The final phase of any project is one that is ongoing. Protecting your athletic field investment with proper maintenance is crucial. Maintenance is a major component of what we do at Odeys. From over-seeding to weed treatment, aeration to fertilization, pitcher's mound repair to turf-building, we do it all. Odeys offers a variety of services and goods in our maintenance division. We frame our maintenance services in three ways:
1. Odeys is available to maintain your field
Every maintenance project is customized to meet your needs. Each field is unique, and has its own set of unique maintenance challenges, many of which relate to keeping the turf on the field in pristine condition. Our site surveys reveal many things that can immediately improve field quality, including pest, grub and insect control, weed control and removal, seeding, over-seeding, watering, aeration and drainage. Aside from maintaining pristine turf, many of our clients benefit from our expertise in the specific areas of field repair. Here are some examples of our services: pitcher's mound repair, batter's box repair, softball/baseball lip removal, divot repair, synthetic turf cleaning, aeration, core processing, topdressing, fertilization, soil renovation, field preparation, field marking, seeding, sodding, weed & pest management, and more!
Learn more about our aeration, core processing, topdressing and overseeding services.

Learn more about our synthetic turf cleanings services.
FEATURED MAINTENANCE SERVICE: AERATION
I have a series of childhood memories that involve our lawn guy coming by to dump lots and lots of "poop" all over our lawn. Naturally, the six-year old me lived in fear of the "poop man" and the couple times a year he would invade my play space. Little did I know, the man that I feared was not dumping poop on my lawn, but actually performing the crucial task of aeration!
Aerating is the process of introducing air into a lawn, giving it a chance to breathe. Aerating is particularly important for sports fields. Grassy areas on sports fields are prone to soil compaction, a nasty occurrence that minimizes the amount of oxygen going to grass roots. When grass roots don't receive enough oxygen it results in increased brown patches and unwanted weeds.
If you are wondering if your grass needs to be aerated you can perform a simple test to find out. Stick a large screwdriver or stake into the grass. If you have any difficulty getting it to go in, then your grass needs to be aerated.
October is the perfect month to aerate! Odeys is available to aerate your sports field or complex! Watch this video and then contact us for a bid on our one time or regularly occurring aeration services.
2. Odeys is available to consult with you about maintenance
Keeping a field looking great is not always as easy as it looks. At Odeys, we want you to have the educational tools necessary to keep your field in top shape! Specifically, we offer the following programs as a way for you to learn more about aeration, core processing, seeding, top dressing, fertilization, pest management and field marking. Not only is our team the leading experts in athletic field care, we also offer education and assistance in self-maintaining fields and courts. We want to equip you to make your sporting complex the best it can be.
Athletic Field Turf Management Programs
Baseball-Softball Field Management Programs
Football – Soccer Field Management Programs
Track and Field Management Programs
3. Odeys carries a variety of maintenance products
Like the paint machine that Mike is demonstrating below, Odeys carries top quality Grounds Keeping Tools and Supplies to help you maintain your field! We provide our customers with a wide range of tools necessary to help manage your athletic complex/field on a daily basis. CHECK OUT OUR CATALOG HERE and call us at 402-597-6296 to learn more!